Laura Christian
I started skiing in third grade and teaching it five years ago during my gap year before grad school.  I love sharing my passion with others, especially the little ones!  Last year I also began giving Snowboard lessons.
 Besides skiing, I enjoy anything outdoors like biking, hiking, climbing…and have recently gotten into baking.  To fund my hobbies, I work for the state of Wisconsin's child care welfare program.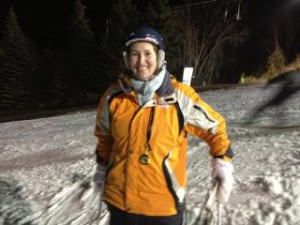 Jenny Coughlin
I love skiing.  My favorite thing about it is to share it with my family and friends.
I've been instructing people in skiing for 17 years and have taught people in ages 1-88.  I enjoy sharing my passion for the sport with others, but I really enjoy sharing it with kids.
I spend the bad snow months of Wisconsin by teaching elementary school.
Brady O'Leary
AASI Instructor (Level 1)
After twenty years of making turns the way he was "taught," Brady became a Snowboard Instructor.
The American Association of Snowboard Instructors' (AASI) system exposed him to the fundamentals of snowboarding, quickly elevating his riding to a new level. Through countless hours of sharing his passion with new riders, along with multiple clinic days as both teacher and student, his progression continues.
Over the years Brady has learned that the student has as much to offer the instructor as the instructor has to offer the student. This season is certain to provide personal growth to everyone that gets out on the snow, and Brady simply wants to save you twenty years of figuring it out.