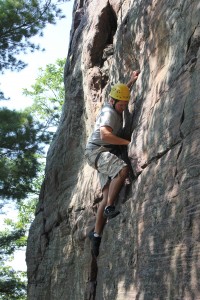 Apex Adventure Alliance offers the most extensive courses in rock climbing in Wisconsin and throughout the Midwest.  With the largest group of certified climbers in the area, all being trained by either AMGA, PCIA, or PCGI, settle for none other for your guided rock climbing outing than Apex Adventure Alliance.
While many of our trips happen at Devils Lake State Park, our own backyard, we pride ourselves on having a wealth of worldwide climbing knowledge. We have also received great reviews from National Geographic and many other local and national outdoor leaders.  If you are looking for something that is not offered, we will work with you to put together the personalized adventure of a lifetime!
We cater to all levels of climbing in many areas. And with over 15 years of guiding with AMGA, PCIA, or PCGI trained guides and are proud to boast a 100% rock climbing safety record! Our guides are experienced and ready to impress you.  Schedule your guided climbing outing today!
Choose from any of our Packages:
Want to get into setting your own top rope anchors but don't know how?  This two-day class will teach, most importantly, the safe way to set anchors.  Start with general instruction on different kinds of anchors and end the course with setting your own bomber anchors.
New this year guided bouldering outings!  Taught by the knowledgeable and soon to be guidebook author Ian Cotter-Brown this class will not disappoint.  You will learn all the ins and outs of outdoor bouldering.
One day of climbing not enough? Sign up for our camp and climb weekends for two days of incredible climbing.
Want a more one on one experience? Then the private guided outing is perfect for you.  Offered in four or six hour classes our certified guides will take you where you want to go. Whether you want to work on the crux of a move you can't get or just have a nice day of climbing the private guided outing is centered around you, the client.
We offer discounted pricing for non-profit groups.  We also offer Boy Scouts the opportunity to earn their climbing merit badge with the help of our guides.
Need a belay partner? Want to meet some new climbers? Our open groups are specially designed for those who want to climb and meet all sorts of new people.
Climb outside of Wisconsin! Guided rock climbing outings are offered to the world-famous Red River Gorge, KY.  Known in the climbing community simply as "the Red" the Red River Gorge offers hundreds of bolted sport climbing routes ranging from beginner to pro.