It's we travel deeper into the month of September, those beautiful trees will shed their leaves, and we are going to begin to stock food for the winter hibernation.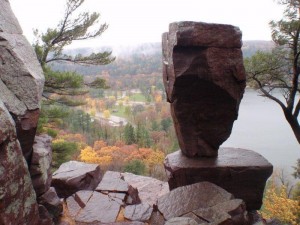 But wait! Maybe this year can be different.  Instead of escaping the weather by staying indoors, make some goals and get out there. Adventure On!
So, what are your Fall goals?  Don't let the beautiful weather escape you and be stolen by time !  Do you want to leave the crowds behind and enjoy a crisp day of quite, crowd-less climbing? We'll help you with that!  , we should become one with it.  We need to plan ahead and create goals!
Climbing during the fall is beautiful. You can climb the Quartzite cliffs of Devil's Lake State Park and enjoy the oranges, reds, and yellows. Make sure to pick up some apple turnovers at Ski-Hi Orchard located between the north and south entrance of Devil's Lake on Ski-Hi Road.  If you get there in the morning, they will still be warm and extra gooey.  We may have even picked up a pie or two to enjoy up at the cliff.  (Just don't forget a fork like we did or if can get messy.)
Follow the "Peak Color Report" at http://www.travelwisconsin.com/fall-color-report and you'll be able to time your Fall climbing trip just right.