We get A LOT of questions about what gear is best to start out when you want to start to build a climbing gear rack to Top Rope at Devil's Lake.  Since much of our clientele intends on heading on out to our local crag, Devil's Lake State Park, here is a list of our recommendations for the Best Climbing Gear to Top Rope Devil's Lake. You'll find that what you need depends on what you want to do, how much time are willing to devote to being creative (and safe, always #1!). If you have further questions, please email us at info@apexadventurealliance.com. Also check out our Anchors Course to learn more.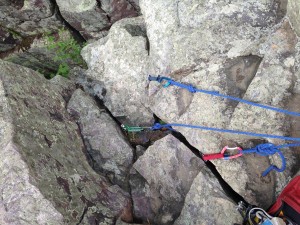 The All-Natural Rack
Tough to get by on, but with a little creativity, possible for many climbs at Devil's Lake. This is also gear that you will just need in general to be able to have a successful set up.
Cord (static), I would go with 8mm minimum.  That will give you something that lasts and the ability to build your anchors to an appropriate strength.  Find it at Adventure Rock, REI, Fontana, etc. (20-40 foot pieces)
Or tubular webbing. (20-40 foot pieces)
Locking Carabiners (two per master point)
Several non-locking carabiners
A few double length slings (2-3)
A Climbing Rope
If all you have is some cord or webbing, PLEASE do not be one of "those people" that bends the rules in order to "make it work."  Only use solid features as naturals.  There are over 5,000 routes at Devil's Lake, so don't compromise safety just because you don't have the right gear.
The Passive Rack – A GREAT! starting point if you are on a strict budget.
Standard Nuts (you can get away with 

Black Diamond's Classic Stopper Set or you can go with the BD Pro Stopper Set)

Offset Nuts.  Work in lots of spots at the lake.  Also like to get stuck. (These are awesome at Devil's Lake!)
Hexes. I like using these in both a passive and active way.  The big ones are great in lots of "thread through" spots at Devil's Lake.
Tricams (Red, Pink at DL or two pinks!)
Nut tool (Definite necessity.  You'll probably get pretty good at using this if you put something in the cold rock in the morning and it heats up during the day).
The Cam, A Lot Rack – Do almost anything with this rack
You'll first need the "All Natural Rack" and then you can either combo with the Passive Rack or just go ahead and cover all of your bases and buy everything.  It is fun to be a gear snob. Plan on quick set ups at Devil's Lake with cams (as long as you have equalization and master points knots under yours belt).
Black Diamond Camalots are great. Easy to place.  I use .5-3 the most, favoring the .75 and 1)
Black Diamond's X4 are pretty awesome with a more flexible stem.
Other camming devices will work just fine. All are similar with some subtle differences.  I recommend Black Diamond since I have first-hand experience with using their product.
As always, we recommend tying yourself in at the top of any climb.  
The Metolius PAS 22 is great
.  Also very useful for sport route cleaning.    
 Best Climbing Gear to Top Rope Devil's Lake.